<< Back to the Faraway Shores collections
Beach Wedding Stationery
Two pairs of flip flops signify the bride and groom who are about to get married on a beach. We can create this in any colour you choose.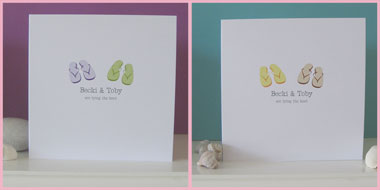 Full stationery range is available. Contact us by email to enquire about any items not shown below.
Click on any image below for a closer look. This colour scheme is known as Brown and Pink.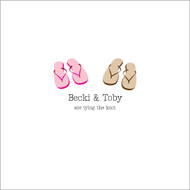 Wedding Invitation
Can be personalised in any way you wish.
Type: Folded card
Size: 125 x 125mm
Material: 350gsm white card

Inside
Centred text, with your choice of wording.



Evening Invitation
Same as the wedding invitation above, but with an alternate choice of wording on the inside
We offer a free personalisation service for the invitations and place cards. This means you can have the names of all your guests printed directly onto them, saving you from the very tedious task of handwriting each and every one! Obviously the choice is yours, so if you would prefer to do it yourself we can just leave a space to write instead.
It is a simple process to take advantage of the personalisation option. All we require is for you to type out the names of your guests into a Microsoft Excel spreadsheet or a text file and email it to us.